JAKARTA, Sept 27, 2023 – (ACN Newswire via SeaPRwire.com) – Tech innovations are transforming organizations across sectors and are especially causing massive paradigm shifts in the financial services industry. In the wake of the situation, the world's largest archipelago is propelling forward with its digital economy and has already produced multiple fintech unicorns.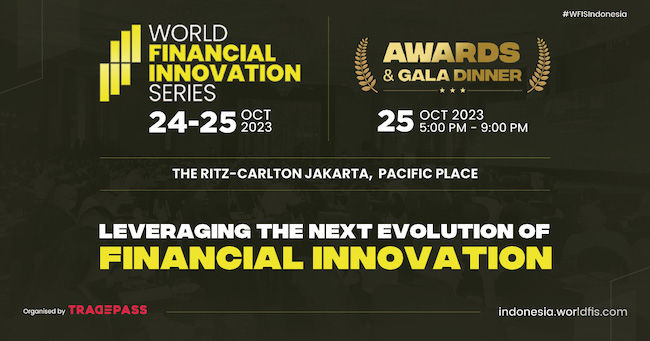 While the 90 million unbanked Indonesians are the sure catalysts behind fintech's growth, more and more companies are now also leveraging the favorable regulatory changes brought in by Bank Indonesia and the Financial Services Authority (OJK). The latter has even launched "Master Plan for the Indonesian Financial Services Sector (MPSJKI) 2021-2025" to further favor the developments.
Imbibing the opportunities arising from Indonesia's current situation and to provide a direct gateway to its flourishing fintech market, the country's most reputed annual FSI event, World Financial Innovation Series (WFIS) is coming back on 24 – 25 October 2023 at The Ritz-Carlton Jakarta, Pacific Place along with an Awards & Gala Night to reward and celebrate the best of FSI.
With all major financial institutions looking to upgrade their structure with added digital offerings, Indonesia has now become a utopia for technology vendors. This is where WFIS comes across as the best fit for bridging the gap between financial institutions and technology organizations.
As for the upcoming 5th annual edition, the platform will host more than 700 technology & business heads from the leading Banks, Insurance & Micro-Finance institutions across the country. On the other side to calm the massive number of inquisitive delegates, majority of whom are seen procuring solutions every year, the platform will feature the most cutting-edge fintech solutions showcased by none other than the leading industry players.
Some of the exhibiting companies who have already confirmed their spot at the platform include Newgen, 8×8, iProov, Provenir, OutSystems, Perkasa, FEITIAN Technologies, IntellectAI, OpenText™ AI Cloud, Reward360 and others.
While expressing his views on the current status of the Financial Services Industry, one of the key speakers for the platform, Samuel Mulyono (Chief Data Protection Officer (CDPO) and Head of Cyber & Product Risk Assurance Group, Nobu Bank) stated, "While technology is an important part of digital transformation in Banking and Financial Services, solutions implemented in the past often focused on poorly designed and implemented technology resulting in high costs and limited value. Organizations often struggle to meet compliance demands and threats, and solutions are limited. I believe that today Financial Services are interconnected and related to global risks that may be inside or outside the information system. Cybersecurity and Data Privacy in Financial Services require innovation-based solutions."
He further added, "I see that this conference is necessary for professionals who are increasingly dealing with many interconnected digital and global innovations."
With a carefully tailored agenda, the event will also power a conference hall for companies and experts to project their thought leadership in the region and address the most pressing issues faced by the industry.
Another key speaker, Edisono Limin (Executive Director, Country Head of Channels & Digitalisation, UOB) gave a brief comment on the platform, "Attending World Financial Innovation Series is a good opportunity to absorb the latest information and knowledge from experts and help us on our digital transformation journey".
The curation of topics for the conference has always been an important highlight. Some of the next-gen topics being covered this year include, 'Future-proofing Indonesia's Digital Banking Strategy', 'Empowering FIs with Cloud', 'Full-Suite Mobile Banking', 'Neo-Banks', 'Increasing Adoption of Biometrics', 'Transforming Banking with Low-Code No-Code' and many others.
When asked about how Indonesia has shaped up to become one of the most favorable grounds for WFIS, Organizer & CEO of Tradepass, Sudhir Ranjan Jena expressed, "Indonesia is a live testimony to the platform's continuous efforts towards fostering collaboration between the biggest financial institutions and the best-in-class technology providers. The active participation of key government officials, most renowned FSI personalities and the leading technology experts to forge a synergetic environment is the reason why World Financial Innovation Series returns every year to the archipelagic state."
For more information about the event, log on to: https://indonesia.worldfis.com/
About Tradepass
Providing access to the global emerging markets, Tradepass brings together people, products and solutions to power events for unparalleled business and networking opportunities. Being the most accredited event company, it helps organizations: enter new markets, grow sales pipeline, close prospects, raise capital and identify the right solution-providers.
As a deal facilitator, Tradepass is always determined about exposing the most agile liquid growth markets, to enable all-round scalability and growth.
Media contact:
Shrinkhal Sharad
PR & Communication Lead
shrinkhals@tradepassglobal.com
+ (91) 80 6166 4401
Tradepass
Copyright 2023 ACN Newswire via SeaPRwire.com.